Bannockburn Conservation Area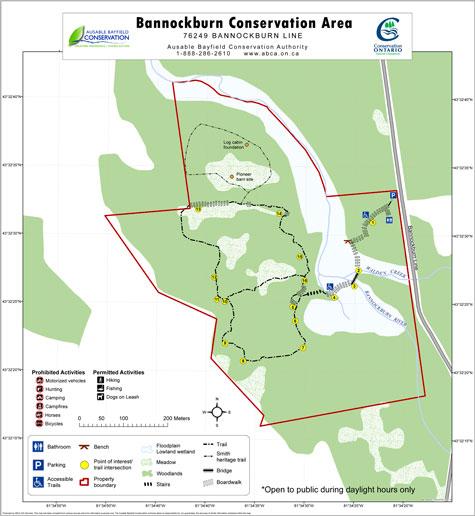 Bannockburn Conservation Area is located at 76249 Bannockburn Line, northeast of Varna, between Brucefield and Bayfield, Ontario.
Visit Ausable Bayfield Conservation Watershed Map , Location # 2 or download a 300 kB (medium-sized) PDF file of the Bannockburn Conservation Area Map.
Driving Directions: From Bayfield or Brucefield take County Road 3 and turn north at Bannockburn Line.
Guide Book
Virtual Video Tour
Take a virtual tour of Bannockburn Conservation Area at this video link: Tour
Take the virtual video tour now by clicking button below:
Audio Tour
Enjoy the new self-guided Bannockburn tour. 'Walk a Mile Project' and enhance your Bannockburn experience with new signs, a professionally-narrated audio tour, GPS and pedomoters and more!
Download the audio tour now by clicking the button below:
Download
You can download the MP3 file using the link below. This will open a new browser window. It would be best if you right clicked and chose Save Target As and saved the MP3 file to your computer.
If you would like a CD to play on a personal audio player please contact Ausable Bayfield Conservation at 519-235-2610 or toll-free 1-888-286-2610.
For more information on this exciting initiative visit the Bannockburn CA Walk a Mile Trail Information Project page.
Features
Bannockburn Conservation Area is home to six different natural communities: wet meadow, eastern white cedar, deciduous forest, old field and mixed scrub and marsh. Hunting and motorized vehicles are not permitted.
The trail starts with a boardwalk that is wheelchair accessible. The popular Bannockburn Fall Hike is held annually each autumn.
Early morning walks will reward you with sightings of deer, grouse and numerous songbirds.
Bannockburn Fall Hike
The Bannockburn Fall Hike was a family tradition for many years. While we are not currently organizing the hike as a formalized event, we encourage you to hike the trails there and make it your family tradition.
For information on the Bannockburn Fall Hike visit: Bannockburn Fall Hike page
Measure trees at Bannockburn Conservation Area
Find our more: Tree monitoring